(Family Features) Whether you're just starting out and filling your first home or looking to round out the missing pieces of a household you've lived in for years, this handy list can help give you a rundown of some must-have items for every room.
Kitchen
High-quality knives and a sharpener for even, precise slicing and dicing
A collection (although not necessarily a matched set) of pots and pans in varying sizes with lids
Wooden spoons and plastic spatulas and scrapers that allow you to prep meals without damaging pots and pans
Sturdy mixing bowls that will stand up to heavy blending and beating
A hand or stand mixer with variable speed settings
Baking essentials, including heavy cookie sheets, cake pans and muffin tins
Measuring cups and spoons (consider adding an extra set if you cook often so there's always some clean and ready)
At least a couple of cutting boards so you can prepare potential contaminants, like raw chicken, separate from other ingredients
Thick mitts for handling dishes fresh out of the oven and trivets to prevent hot items from damaging counters and other surfaces
Complete place settings (plates, glasses and silverware) for as many as 12 guests
Living Area
Comfortable seating for every member of the household
Occasional seating such as benches or ottomans than can serve dual duty for visitors
Side tables and a coffee table to keep drinks, magazines and other necessities within reach
Soft, cozy touches such as rugs, pillows and throw blankets
Artwork and other decor that can add character and personality
Lamps that create a more inviting ambiance than stark overhead lighting (adding a dimmer switch can give you ultimate ambiance control)
Entertainment features, such as a television or music system
Window coverings to block harsh daylight sun and give added privacy at night
Office
A comfortable chair with adequate lumbar support
One or more flat, sturdy work surfaces
Supply of pens and pencils in varying weights and colors
Standard supplies, including stapler, paper clips, ruler, etc.
Printer, paper and extra ink, so you don't get caught mid-project with no way to finish
Quality task lighting
Guest Room
At least two sets of linens to accommodate beds, plus extra for inflatable mattresses or sleeper sofas for guests
Blankets in a variety of seasonal weights so guests can layer up or down to their comfort level
A complete set of towels and washcloths per guest
Toiletry essentials that are easily forgotten, like toothpaste, toothbrushes, shampoo and conditioner
Remedies for current maladies, such as headaches and allergies
A supply of extra hangers
Reading material, such as a couple of classic novels or current magazines
Laundry Room
A drying rack for air-dry-only garments
Baby powder to help lift greasy stains (just sprinkle, let sit to absorb then apply stain remover before washing)
Stain remover
An iron and ironing board
Hangers for items fresh out of the dryer and a rack or rod to hold them
A secure shelf or basket to safely hold detergent, other laundry essentials and items that do not fit in the pantry
Find more helpful tips for your home and lifestyle at eLivingToday.com.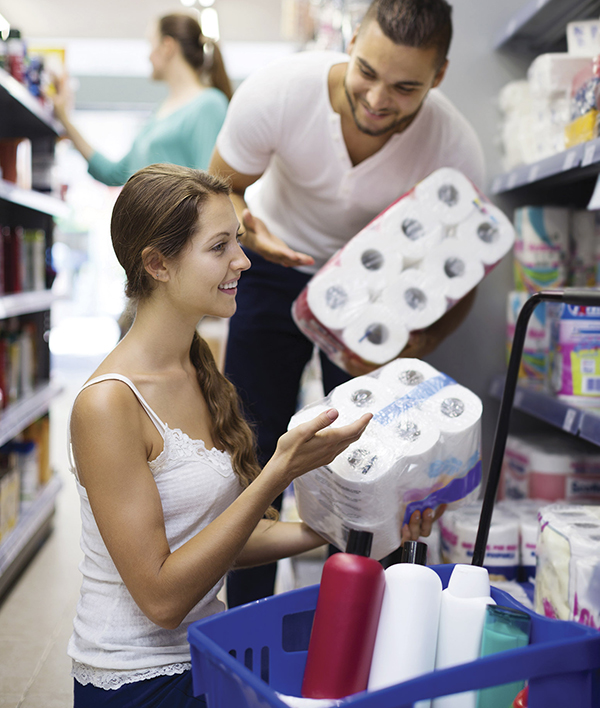 5 Ways to Save Money While Shopping
There's shopping for pleasure, then there's shopping for purpose. The latter is never quite as fun, but taking a practical approach to buying household necessities can help save money so there's more to spend on the shopping you enjoy most.
Tackle your household shopping with these cost-conscious tips from the experts at Scott Brand:
Keep a list. Knowing which groceries and supplies you have on-hand before heading to the store makes it easier to avoid overspending. Look for a shopping list app that includes sharing features so others in the household can let you know when they use the last of something that needs replaced.
Pull in price-cutting resources. Start by looking at store ads before heading out to shop so you know where to find the best deals. Be sure to clip coupons from the local paper and print more coupons online. Also remember to do price comparisons at online shopping sites.
Shop for value. Instead of simply purchasing the cheapest product, do your research to know which product offers the best value. Look for household items like Scott 1000 toilet paper, America's longest-lasting toilet paper, which comes with 1,000 sheets in every roll to help your family keep on going. Determining which products will meet your family's needs in terms of performance and long-lasting value at the lowest price can help you save in the long run.
Know when bulk spending is better. While it will likely make a larger dent on your wallet at the store, buying in bulk can provide long-term financial gain. Because you're buying in quantity, you'll likely be purchasing products that will last longer to help delay a return trip to the store. One way to minimize the "ouch" of the upfront expense: stagger your bulk buying so you're restocking items over time.
Avoid impulses. Especially when you're shopping with family members, it's easy to watch the shopping cart grow full with each "bargain" item at the end of the aisle. Unfortunately, these impulse buys can add up quickly. Instead, invite the whole family to help build a reasonable list and then help keep each other accountable to it. If you make it all the way to the register, reward yourselves with a small snack or treat from the check-out aisle.
Find more information and ways to save on household necessities at ScottBrand.com.
Photos courtesy of Getty Images